Saturday, May 31, 2008?
arg..
just woke up..
And it's not in the morning ..
Its round 2315 now..
Fell asleep at 1815 maybe ?
Earlier today was doing my blog cum studying
then decided to full fledge study..
Went into my room on my air-con
put all my books on bed and try to make myself comfortable
i guess i made myself too comfortable..
i didnt do much and didnt dream today :P
not much things to write
so ya ..
I AM HUNGRY !!!
gonna go grab smth to eat
o ya .. am i still missing any thing in my blog ?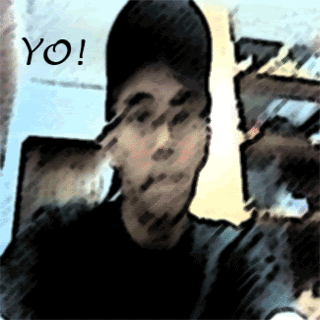 Friday, May 30, 2008?
its time for blogging again zzz
so reluctant to blog today.. but wth..
Today is one of those boring days where nothing special happens
Was late for school again..
Reached at 10am
school starts at 8.
Today's lesson was so demoralising.. so much things i dunno
some tcp/ip models and osi layer thingy ..
if i get low marks for my IMPORTANT exam,
this is the bullshit that pull me down.
After school i tried to persuade Yi long to study with me
haha but he didnt..
made a few phone calls but no one was free
so i went home and rot.
i mean study.. hehe ..
I didnt really study that much today
Dinner time,my father is cam whoring with his new cam
somehow i got persuaded into photoshopping his picture
Thats the 1st one i made for him, then he says he dun wan his name on it
zzz
and his face was all mouldy.. lol


Then i did this
He was like. "Never do this to someone elses face"
Kinda hurt to hear that but deep down
i was lmao
I'm too lazy to show the 3rd one .. lol
At a point got kinda fustrated and drew some facial hair for him
made me laughed a lil
too bad i didn't save it
:P
And i can read PDF files and Word docs with my PSP
yay !
still having some trouble with the pdf part though..
Gotta resume studying ! bb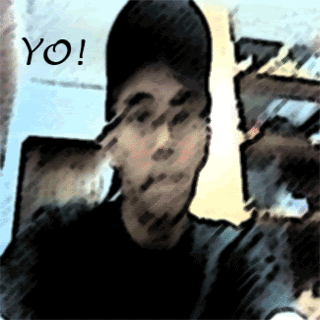 Thursday, May 29, 2008?
Super dirty sia now .. haha
(technically not sweating but still drenched)
erm...i've just bathe finish...
kinda end up surfing the net instead of blogging :P
I'm trying to learn how to make .gif images with photoshop
to replace my stupid banner..
it's cute but not really what i want.
and im still learning now..
Suppose to reach sch at 8am
it's SW(sports and wellness)
played some floorball,epic moment of the day,
i tripped on someone's stick and fell,and 2 person chained
kinda cartoon if u can picture it.
Then next lesson is 3d animation
as i said yesterday,i'm suppose to pass up this stupid
and i didn't manage to find the .3dsmax file
guess no one is that stupid to upload it in public.
BUT , when i switched on my computer, i realised
that someone left their project on the desktop !
Named "Zhuo_WeiXiong_22_project"
well ofcourse i made some minor changes
but enough to fool the teacher into believing its a original work.
After school i decided to go destress..
As i'm on a no game scheme and i've been studying my ass off
I went down to yishun to meet some old buddies.
4 simple destressing burned out so much time
was suppose to be home at 2100++
and soon after i begin my lil post.
have a lesson at 8am tmr..
vital class.
I must say that this is the 1st time i'm not anticipating
the holidays.
Basically it's the last day of school tmr
next wednesday is my exam.
I'm damn stress as i feel like there is still so much i don't know.
and my mid year paper takes up more % then my year end!
this is "boulshit"
guess i'll need to rest early today and resume my studying scheme
tmr after sch.
PLEASE PRAY THAT I WILL SPEND EFFORT TO DOLL UP MY BLOG!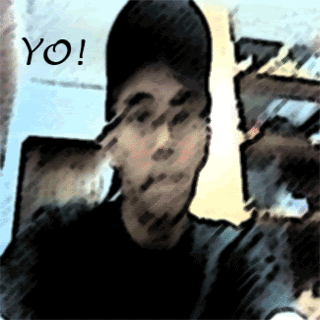 Wednesday, May 28, 2008?
hello, to all fellow bloggers who actually realised ive updated my blog,ive a quote for u,

ur a blog junkie !

ok . . time to spill my heart out on my blog . .
======================================
just bath finish.. quite famish.. but now the only thing in my mind is my up coming exams...
have been studying quite hard recently ( for a change) and apparently it proves to be working ..
I topped my class mock test today.. might look lousy but its actually a damn badass test
74/100
seems like i have to work even harder if i wanna enjoy poly life..

currently im searching the net for some 3D max file samples.. due date is tmr ..
and yes.. i intend to "cheat".
too much playing in class is bad for you !

Guess what.. i'm now officially on a scheme to cure my addiction for games.
It burns up my life man.. Waste of time..
Casual gaming will still be present ofcourse..
so much more things i can do if im not playing :P
but still.. how much more boring can my life get ...

recently so much things have happen...
be it good or bad..
its kinda affecting on how i see things..
but it continues to pollute my brain with doubt and paranoia.
And it leads up to the main reason on why i'm blogging again.

Everyone needs someone to talk to..
if not they will become some kind of time bomb which will explode any moment
or they are some kind of loners(no offence if you r one)

After i start seeing things in a different way, i felt that it is an uplifting experience
and i start sharing it with people hoping that they would feel the same,
but sadly, some thinks that im stereotyping people, some thinks that I am being a too sensitive.
Ofcourse they didn't say it straight to me,but their response is pretty obvious.(You can now debate the case whether am i being sensitive or over.)
So i decided to turn to my sweet escape. My old blog.

I may not post frequently but life isn't that fantastic to post everyday.
Thanks for reading